Kitten with Bloody Diarrhea
by Willette
(Crane Hill, AL.)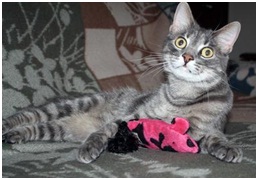 One of my students was given a 10 day old kitten whose mother abandoned it. It has eaten kitty milk from her hand for three days and seems to be thriving. Today (Sunday) the kitten has diarrhea and blood in it. The family is sooo upset. From what I have read on this site it says roget to the vet if they have another symptom besides diarrhea. The say they will go. Should they take a 14 day old kitten to the vet? I'm wondering if it would have much hope for survival or should we let "nature take it's course". Thank you for any help.


Willette
Vet Suggestion on Caring for a Kitten with Bloody Diarrhea
Hello Willette,
This kitten should absolutely see a veterinarian. Diarrhea with blood in it is not an unusual problem for kittens. Many of these cases will get better with relatively simple treatment, as long as it is started early enough.
To start with, the veterinarian will want to perform a physical exam and take a look at a fecal sample under the microscope. This is all that is often necessary to reach a diagnosis and develop an appropriate treatment plan.
Regards,
Jennifer Coates, DVM
Join in and write your own page! It's easy to do. How? Simply click here to return to Kitten Diarrhea.