Abbyssinian Cat Breeders: Badsworth
by Debbie Walton
(Nordhorn, Germany)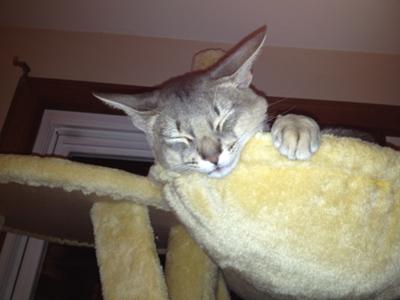 Blue Abyssinian... Chillaxing
Badsworth are Abyssinian cat breeders based in Germany. Find out more about Abbyssinian kitten breeders in the Keeping Kittens Abyssinian cat breeder directory.

Breeder Name: Badsworth

Location: Nordhorn in Germany

Breeds: Abbysinian, Somalii and Maine Coons

Shipping: Undisclosed

A Bit About Your Cats and Kittens:

I have been breeding Kittens since 1976.. I rear my kittens using the BARF method.

My kittens are reared in the home and are very well socialised..

They are all PDK, PRA and PL fTested, I only breed from Negative lines

I breed Abyssinians in the following colours chocolate, Lilac, sorrel,Fawn, Usual and Blue

Website: www.badsworthcats.com

Do you breed Abys? Add your free business webpage with the Abyssinian Breeder form.




Join in and write your own page! It's easy to do. How? Simply click here to return to Abyssinian Cat Breeders With Kittens for Sale.